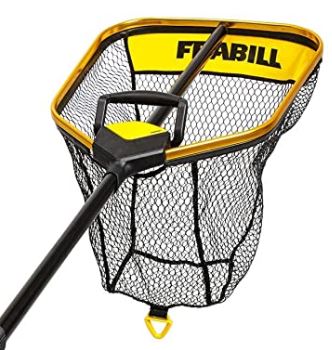 One of the most recognizable names in the world of fishing nets is Frabill. They have been producing amazing fishing equipment for around 80 years!
One of the neat things about Frabill is they are always looking to make their products better. Innovation is key in the world of fishing; and new for 2020 is the Frabill Trophy Haul Fishing Net Line!
What are the Best Frabill Trophy Haul Fishing Nets? The standard Frabill Trophy Haul, Frabill Trophy Haul Predator, and the Frabill Trophy Haul Bearclaw are awesome choices!
However, there are five great nets in this line that you can pick from – so please enjoy our Best Frabill Trophy Haul Fishing Nets Review so you can see which net should be added to your collection!
Quick Frabill Trophy Haul Fishing Net Reference Chart
Here is a quick look at the 5 different Net options in the Frabill Trophy Haul Landing Net series. There are some different size variations in some of these lines, so do keep that in mind. For a much more detailed review on each net option, please read on past the chart!
| Rank | Name | Picture |
| --- | --- | --- |
| #1 | Frabill Trophy Haul | |
| #2 | Frabill Trophy Haul Power Extend | |
| #3 | Frabill Trophy Haul Bearclaw | |
| #4 | Frabill Trophy Haul Bearclaw Night | |
| #5 | Frabill Trophy Haul Predator | |
The Best Frabill Trophy Haul Fishing Nets Reviewed
Frabill Trophy Haul Reviewed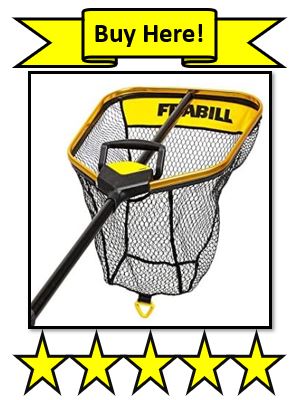 The first member of this net family is just the standard Frabill Trophy Haul fishing net. This is your basic fishing net that is perfect for most anglers – and it does come in 3 different hoop sizes depending on your fishing species of choice.
All 3 sizes of this net will have a 48-inch sliding handle giving you plenty of reach to scoop fish into your boat. These nets also have a slick rubber grip on the bottom to help you control and secure your handle of the net as well.
You will also be very impressed with the innovative handled yoke design. It was designed to improve balance, equalize pressure, and remove extra stress – making this net incredibly durable and easy to control!
The net itself has a flat-bottom design. The netting is what Frabill calls "conservation" design – which means it is coated and not knotted to prevent injuries to fish.
The hoop size is going to be either 18″ x 21″; 21 x 24″; or 24″ x 27″ depending on the size you buy. This gives you a lot of flexibility – this net is perfect for walleye & bass anglers, trout anglers, or the biggest version can even help you land the occasional northern pike or catfish!
Here are the quick links to purchase the appropriate size:
These are just great fishing nets and you can see why they had to be included as the #1 option when we were discussing the Best Frabill Trophy Haul Fishing Nets.

Frabill Trophy Haul Power Extend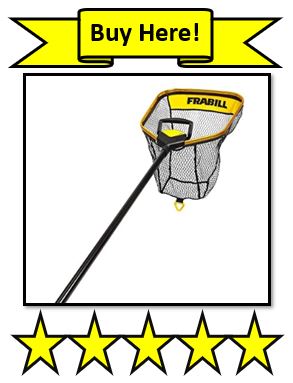 The Frabill Trophy Haul Power Extend line of fishing nets is very similar to the Trophy Haul nets listed above, except for a few awesome added features!
These Power Extend Nets are designed for people that need a little extra reach out of their net when landing fish (you probably could tell that by the name). These handles have a push-button release that will help you expand the net's reach. These handles can be as short as 38″ and as long as 72 inches. The push button release & lock make it very easy for you to quickly change lengths on the fly!
Another neat feature of these nets is they have a light built into them! Where the handle meets the yoke is the built-in light. The net also has a reflective hoop (that yellow thing you see in the pictures of these nets) that really makes the light from the module shine! This is a great feature for those anglers that love to do some fishing at night!
The rest of these features such as mesh & net design are the same – and these Frabill Trophy Haul Power Extend Landing Nets also have three different hoop sizes you can pick from. Here are your options:
These nets are great and are perfect for anglers that need a longer reach from their net, and people that like to do a little bit of nighttime fishing!

The Frabill Trophy Haul Bearclaw Nets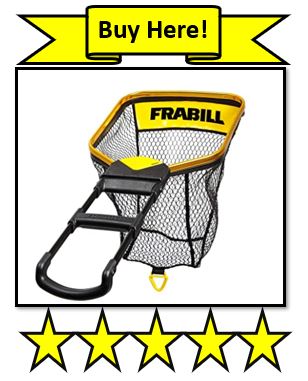 I am going to combine both the Frabill Trophy Haul Bearclaw & the Frabill Trophy Haul Bearclaw Night fishing nets into one section because they are almost identical. The big difference is the Frabill Bearclaw Night Fishing net has the light feature we talked about above built-in to it, while the standard Frabill Bearclaw net does not!
Really what makes the Bearclaw fishing nets exciting is the unique design! There really isn't another fishing net like it on the market. They are basically designed to be used by anglers that typically are netting by themselves, and usually have only one free arm! This would be for your kayakers, paddle-boarders, and even people on shore fishing!
The design basically has a support bar that is wrapped around your forearm – and you can grab the handle in the middle to control the net. This makes is a very easy net to control by yourself, and it makes it really easy for you to scoop up fish with!
This is such a unique design that we actually did a much more detailed review on this line of nets that you can read here: Frabill Bearclaw Fishing Nets Reviewed.
These nets only come in one size, which is an 18-inch handle with a 14″ x 18″ net. And again, you can pick between the version that has a light and the version that doesn't have one.
Here is a quick link you can purchase these nets from:
These are just fantastic nets for solo anglers and those that love to fish from their kayak!

Frabill Trophy Haul Predator Fishing Net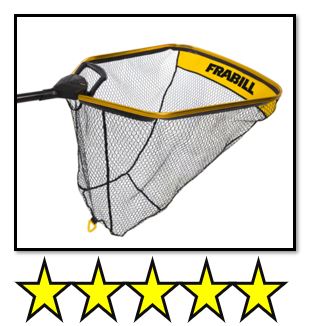 The final (and most expensive) option in the Trophy Haul Fishing Net line is the Frabill Trophy Haul Predator Fishing Net. This is the net that was created for bigger species of fish – i'm looking at you pike anglers!
This net has the same high quality materials and yoke design as the other nets in this line (sans the Bearclaw options obviously). The hoop itself is 27″ x 30″ which gives it that extra size to handle large fish!
It is a sliding handle as well. This handle has some extra-reinforcement to handle larger fish and can slide out to a full 72-inches in length!
And I know you are curious, this fishing net does include that little light and reflective hoop material to make it even easier to land large fish at night!
Overall, this fish is great for larger species and people that need that larger hoop size. If you don't see yourself taking to many fishing trips for larger species – it might be a little bit of an overkill and you would be better off with the original Trophy Haul line of nets!
Final Thoughts and Links of Interest
The Trophy Haul Landing Net line was an exciting addition to the world of fishing gear in 2020! You can see why these innovative designs and high-quality fishing nets have gotten so much attention!
It was really easy for us to recommend these fishing nets and we are sure you are going to be excited to have them in your boat when the time comes to land those giant fish!