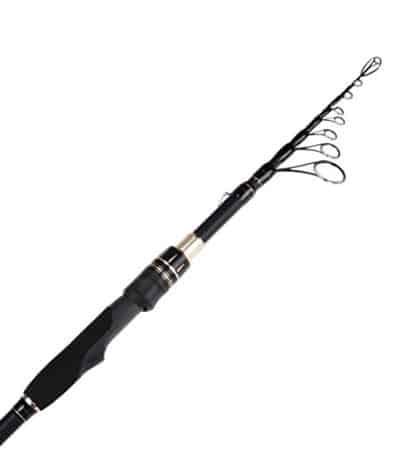 When I was a kid, I don't remember telescopic fishing rods being a thing. Maybe I just don't remember people having them, but they are certainly gaining in popularity right now for a number of different reasons!
Which leads to a question that we get asked frequently – what is a telescopic fishing rod?
The simple answer is a telescopic fishing rod is a fishing rod made with different sections that are able to slide into and out of each other.
Basically, these fishing rods are able to expand to the size of a traditional fishing rod – but also when each section is pushed into each other- you are looking a compressed fishing rod that is super simple to travel with.
Below is a much more detailed article explaining some of the benefits of telescopic fishing rods – and probably giving you all of the information you ever what to hear about this style of fishing rod!
Telescopic Fishing Rod Basics
Here are some of the key points you should know about Telescopic Fishing Rods.
They are normally made from graphite, fiberglass, or a mixture of the two (composite rods) – just like traditional fishing rods.
They are very popular fishing rods with travelers, hikers, and adventurers that like to get off the beaten path. This makes sense because of how easy these rods are to transport.
There are a lot of great brands that make telescopic fishing rods – so there is a great selection to pick from.
They do come in many different sizes, powers, and sensitivity ratings; just like you get with traditional fishing rods. This does help you pick a telescopic rod that will be good for your situation.
They mare made with many of the same materials that traditional 1-piece or 2-piece fishing rods are made from. This means there isn't a large learning curve with these fishing rods.
This fishing rods can be used with both spinning reels and spincast reels depending on the telescopic fishing rod you buy.
How do Telescopic Fishing Rods Work?
These fishing rods are really simple to use. Just like we stated above, they are designed to have different sections that can be pulled out from each other to expand into a full-sized fishing rod.
To expand the rod into its full-sized mode, simply pull out each section gently until it locks into place. To get the rod back into compact mode, gently twist each section until it unlocks, and push it into the section below.
One word of note, don't be an idiot and swing or whip the fishing rod open. There is a really good chance you could accidentally damage your fishing rod – even if this does seem like a fun thing to do.
Handles can be made from cork or something covered in foam just like traditional fishing rods. The guides can also come in many different materials and styles – but it is very easy to find a rod that will meet the standards of even the pickiest anglers.
These rods will also come in a lot of different sizes when they are expanded to their full lengths. For example, the KastKing BlackHawk II Telescopic Fishing Rod Collection – which is one of my favorite Telescopic Fishing Rod Choices – has options that range from 6'6″ to 8′ in extended length! The collapsed length of these rods is in the 22″ – 28″ range – which shows you just how easy these rods are to travel with!
With all these options, it will be easy for you to find the right telescopic rod for your fishing adventures!
Benefits of Telescopic Rods
The biggest benefit of having a telescopic fishing rod is pretty easy: the ability to easily transport your fishing rod from place to place. These fishing rods can be packed in a suitcase for flying, easily put into the trunk of a car, or easily attached to your backpack while wondering around hiking trails. These fishing rods are compact, lightweight, and a brilliant travel companion for serious anglers! I mean, have you ever tried to transport your 7'6″ custom made 1-piece fishing rod? Doing that is much more difficult, and you are always worried about breaking off a guide – I know this by experience!
It is also important to mention that since they are so lightweight, they really are good for hiking and getting off the beaten path.
The high-quality materials you can get these rods made from make them very durable as well. As long as you take proper care of your fishing rod, you should be able to use these rods for a very long time.
The price and selection of different rods is incredible as well. You can buy a very good telescopic fishing rod for $50 and under – which is a little less expensive than my St. Croix fishing rods.
Disadvantages to Telescopic Fishing Rods
A lot of the disadvantages of these fishing rods will come down to the model that you buy. For example, one of the biggest complaints is these rods aren't always the best at casting. This makes sense because your line is going between sections that are locked into place – and if they aren't locked in properly, or they slip, or the line gets stuck on a guide – casting can be very difficult. Better models will cast better.
Casting is also an issue if you buy a combination telescopic reel/rod and try to change the fishing line in the reel to something that the reel can't handle. For example, cheaper telescopic spincast reels (you know those reels that have a button that you push to cast) aren't going to be able to handle braided fishing line. Use the monofilament line they come with, or you will have some issues casting.
I don't find these rods to be as sensitive and have the backbone to set a hook as strongly as my traditional 1-piece fishing rods – but this also makes sense since these rods are built in collapsible sections!
Durability with these rods shouldn't be a problem if you take care of your rod. That is pretty standard for 1-piece rods, 2-piece rods, or these telescopic fishing poles.
Final Notes
These fishing rods are perfect for travelers or people that want to have a fishing rod with them almost everywhere they go. Being able to take a fishing rod on an airplane, train, or basically any other mode of transportation is a big deal – and a big reason why you should think about purchasing one of these rods!
If you are looking for a good Telescopic Fishing Rod, here are some of the options I would recommend for you:
KastKing Blackhawk – Like I mentioned above I love these rods!
PLUSINNO Telescopic Rods – This is the best seller on sites like Amazon.com.
Sougayilang Travel Rods – Another popular option on shopping sites!
All of these options are very popular and will hopefully give you the fishing experience that you are looking for. And like we said before, if you are a traveler always wanting a fishing rod by their side – here is your chance!