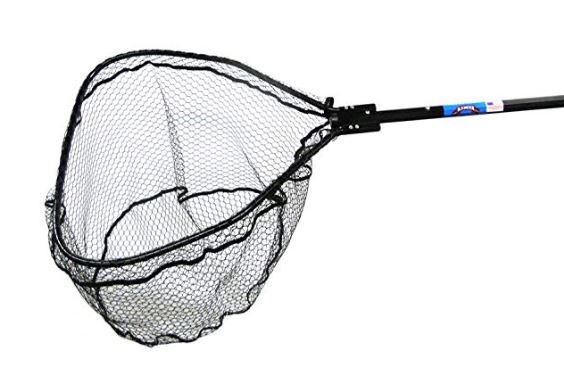 I have always felt that one of the most underappreciated pieces of fishing equipment is the landing net you are using. We take so much time buying the right rods, reels, lures – heck we even spend a lot of time picking out the right tackle box – only to grab the first fishing net that we see.
I've seen a lot of nice fish get away because the net being used wasn't adequate for the job. Spend a little extra time picking out the right fishing net – it will benefit you in the long run.
With that being said, I would strongly recommend the Ranger 458 TS Fishing Net for bass boats, canoes, kayaks, and most freshwater fishing adventures – with the exception of some of the larger species of fish like northern pike, muskie, and catfish.
So, check out this Ranger 458 TS Fishing Net Review to learn all the ins and outs of the fishing net – and to see if it would be a good fit for you!
Ranger Net Basics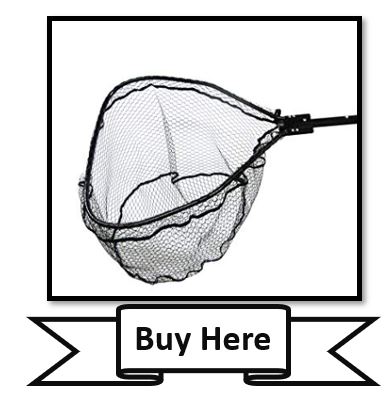 Ranger Nets is an American based company and the Ranger 458 Tournament Series Fishing Net is made in America! – Just like most Ranger Landing Nets.
Ranger Products has been producing fishing nets since 1962 according to their website; and they emphasize the important of customer satisfaction and high-quality products; I think we can all agree that those are important factors!
Ranger also has a lifetime guarantee on most of their products, which shows they are willing to back up their claims of quality and customer satisfaction.
Quick Ranger 458 Tournament Series Fishing Net Highlights
Here are the quick highlights of the Ranger 458 TS Fishing Net Line, with a much more detailed review of the net listed below!
Handle Length: 29″ – 45
Telescopic Handle
Hoop Size: 20″ x 20″
Net Depth: 24″
Collapses down to 31″ x 20″ (perfect for canoes and kayaks)
Octagon Shaped Handle
Knotless Rubber Coated Nylon Net Material
3/4 Inch Net Holes
Made from Heavy-Duty Aluminum
Made in the USA!
Cost: Normally around $65.00


Net Handle
An important part of any fishing net is going to be the handle. The reach needs to be long enough for you to secure the fish safely, and the more comfortable the handle the easier it is going to be to navigate thru the water. Handle grip and control are an important part of netting your fish successfully.
The handle on the Ranger 458 TS Landing Net checks all the necessary boxes. It is a telescopic handle (meaning it can expand). The handle length is between 29″ – 45″ depending on how long you have it set to. You can use the shorter handle size when kayaking or canoeing- and the larger handle side is good for most fishing boats.
The handle is all black and octagon in shape. The octagon shape gives you a secure grip that makes the net easy to handle – and less likely to slip out of your hand. And the black color just looks nice.
It is also made from a heavy-duty aluminum material that is durable – but lightweight. This again makes this fishing net easy to handle in the water and easy to pull up your fish!
You are not going to be disappointed in the handle construction of this net!
Net Hoop
You always want to check the hoop size and hoop material of any fishing net you are buying. Old-school nylon nets can be hard on fish removing the slime and sometimes harming the fish. You really want to have some type of protective coating & knotless netting on you fishing net – especially if you are big into catch and release fishing.
The hoop size is important because you need to have a net that can fit the species of fish you are trying to catch. Catching a giant northern in a small net is a difficult task. Make sure both the hoop size and the net depth can handle your desired species.
The hoop size of the Ranger 458 Tournament Series Landing Nets are on the smaller size. It is a 20″ x 20″ hoop which is good for bass fishing, walleye fishing, and smaller species of fish. The size of this hoop is perfect for fishing out of canoes and kayaks – or even bass fishing boats where space can be a little limited.
The net depth is 24″ – which again is a little on the smaller size but deep enough for most freshwater fishing species.
The net material of these Ranger fishing nets is a knotless, rubber coated nylon. This helps protect the fish from any unnecessary damage and also helps keep your fishing hooks from getting all tangled up in the net itself. Who wants to spend a lot of time untangling their fishing hooks from a net? Not me.


Storage
We should also note that the Ranger 458 TS Fishing Net is easy to store and easy to transport. One of the big selling points of this net is it can be collapsed down to a size of 31″ x 20″ which will easily fit into a boat, canoe, or kayak.
The ability to store this fishing net is also nice for anglers like me in a cold weather environment, where some of my fishing gear unfortunately gets stored away for a few months at a time. This will easily fit in a garage, basement, storage shed – you name it you should be able to store it in it.


Cost & Final Thoughts
The cost of these fishing nets is very reasonable, normally costing about $65. That is a great price for the value, materials, and functionality of these fishing nets.
This was a really easy net for us to give a 4.5-star rating too. There really aren't a lot of drawbacks to this fishing net besides the hoop and handle possibly being a little small for some anglers depending on the type of fishing they will be doing.
What it is great for is people that want a net that is easy to travel with, that collapses down to a great size, and that is made from great materials.
We strongly recommend this fishing net for people that do a lot of catch and release fishing, canoe fishing, kayak fishing, or just need a good all-around fishing net!
You won't be disappointed if you decide to purchase this fishing net!