I think that KastKing makes some of the best looking fishing gear on the market today. Luckily for us, this great looking fishing gear is also very functional and durable.
One of the new releases from KastKing is the KastKing Cadet Spincast Fishing Reel. Now, I'm not someone who normally fishes with spincast reels; I prefer spinning reels. However, if you have ever tried teaching a 5-year-old how to use a spinning reel, it can wear out your patience quickly.
The Cadet Spincast fishing reel is the perfect fishing reel for beginners and younger children. It was designed with simplicity in mind, and it is meant to keep fishing fun!
So, without further wait, here is our KastKing Cadet Spincast Fishing Reel review, with all the information you will ever need about it!
The KastKing Cadet Basics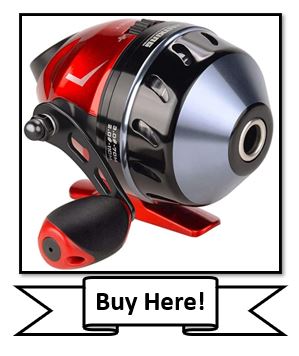 Just like any spincast fishing reel, there is going to be a push button that allows you to cast. The push button is so much easier for youngsters to use than opening a bail, pulling back the fishing line, and releasing the fishing line at the right moment during the cast.
The KastKing Cadet Spincast Reel is made with two fishing line pick-up pins. This doesn't sound fancy, but this is what helps reduces tangles, makes the reel catch the line when casting and reeling, and helps the overall performance of the fishing reel. Cheap spincast reels do not have this. That is what creates those nightmare tangles that many of us experienced as kids – and is the reason we don't use spincast reels today.
The design of this reel is also a low-profile design. This design makes it easier for children to handle, grip, and reel. That is another reason why this fishing reel is so good for children.
I think you are also going to like the durability of this fishing reel. The cone and body are made from a lightweight graphite material that should keep it strong and functioning for a long time. The grip on the handle is also very comfortable and very durable – exactly what you want in a spincast reel.
There are two colors this reel comes in – Blazer Red and Heron Blue. Both look awesome, but I do think I like the sleek look of the blue better.
These reels also come pre-spooled with monofilament fishing line – meaning they are ready to go right out of the box. It won't take you long and you will be catching fish on your new fishing reel.
Here are all the other important specs of these reel you probably want to know before buying:
Gear Ratio: 3.1:1
Drag Power (LB): 6.6
Inch Per Turn: 11.4
Reel Weight (OZ): 7.4
Monofilament Line Capacity (LB/Yards): 6 – 140; 8 – 110; 10 – 100
Oh, and did we mention the price of this fishing reel is only around $25.00?
So, this fishing reel is basically a no-brainer if you are looking for a good spincast fishing reel or a good fishing reel for beginners or children!

Final Notes & Links of Interest
Like we said above, it would be hard for us to recommend a better spincast fishing reel then the KastKing Cadet if you are looking for something in that $25 range or for a great beginner's fishing reel.
We should note that KastKing does make another great Spincast fishing reel that you can read about here: The Best Kastking Spincast Fishing Reels.
KastKing also makes some other really good pieces of fishing gear that you should check out: including my favorite walleye fishing rod & my favorite telescopic fishing rod!
Hopefully this fishing reel brings you, your family, and your friends years of excitement!